SERENADE: A BALANCHINE STORY
Thursday Sep 8, 2022 1:00pm EST - Virtual

Join YIVO for a discussion of this new book featuring Bentley in conversation with YIVO's Executive Director Jonathan Brent, including a discussion of how researching this book brought Bentley to YIVO, even though Balanchine was not Jewish.
CAT RADIO CAFE
Tuesday, May 24, 2022 21:00pm

On tonight's show we were joined by author and former ballerina Toni Bentley whose new book, Serenade: A George Balanchine Story is a love letter to that particular ballet and to the vision and genius of Balanchine, the great Russian-born choreographer who began creating it upon his arrival in America in 1934.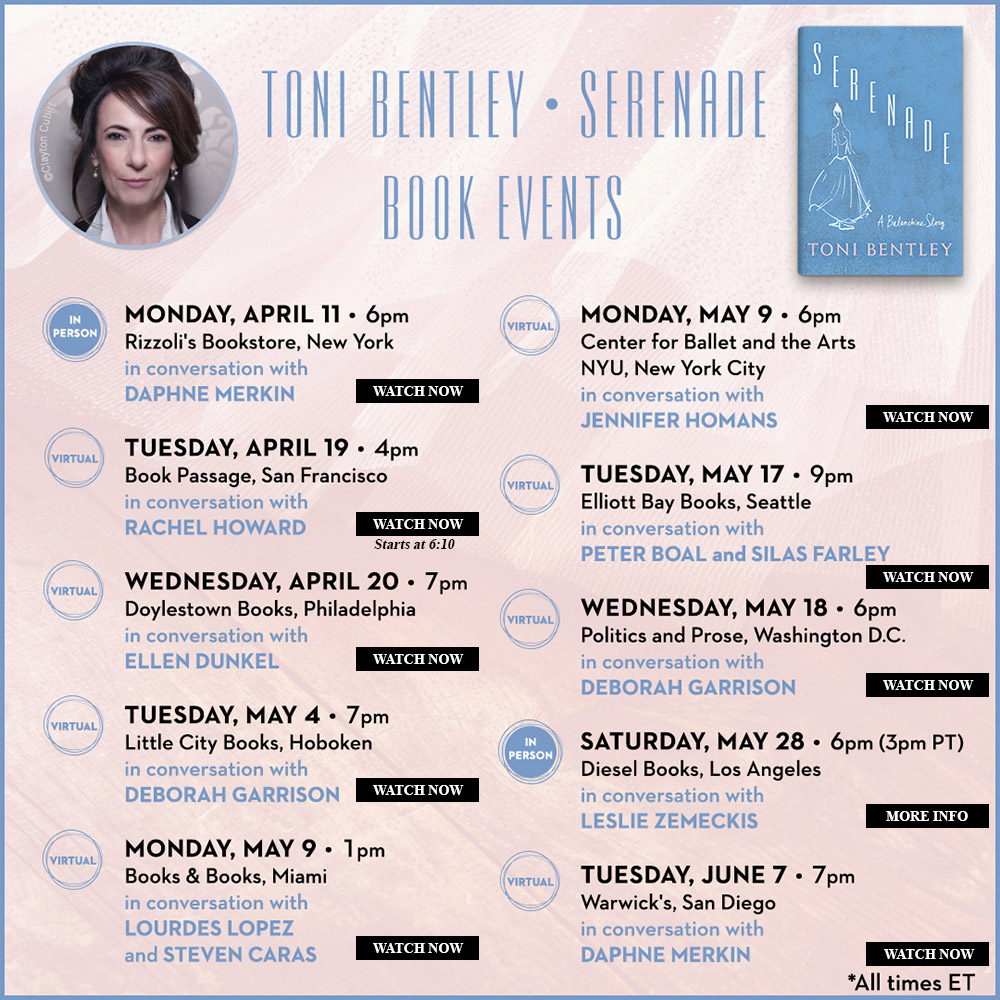 LET'S TALK SEX!
With Toni Bentley, Erica Jong, Daphne Merkin, and Amy Sohn
Join us for a provocative discussion with world-famous writers whose tales of love, lust, and desire shocked cultural norms and helped reinvent the sexual landscape.

Panelists:
Toni Bentley, journalist and author of five New York Times Notable books including The Surrender: An Erotic Memoir
Erica Jong, author of over 25 books including the feminist classic Fear of Flying, Sugar in My Bowl, and Fear of Dying
Daphne Merkin, novelist, essayist, and author of Enchantment, Dreaming of Hitler, and New York Times notable book The Fame Lunches 

HIS WAS FIRST, IN MY ASS
An Erotic Film Tribute to THE SURRENDER
The award-winning Swedish feminist porn director, screenwriter and producer Erika Lust, who works out of her studio in Barcelona, has made a short film tribute to THE SURRENDER, An Erotic Memoir, titled HIS WAS FIRST, IN MY ASS.

It is well-worth seeing, particularly if you are a fan of the book -- but fair warning on two counts: you will need to pay to see it, but it is hard, hard-core. Oh yes, and the girl is very sexy and very pretty so you decide….


MORE INFORMATION



fi : af • french institute alliance française

The Art of Sex & Seduction
Avec Plaisir: Ceremonies of Love & Desire

Wednesday, October 7, 2015 • 7pm
With Catherine Robbe-Grillet & Beverly Charpentier
Moderated by Toni Bentley

Get a glimpse inside the secret ceremonies and sadomasochistic rites of France's most notorious dominatrix. A screening of provocative highlights from La Cérémonie and Le Contrat, Lina Mannheimer's documentaries about Catherine Robbe-Grillet, will be followed by a rare appearance by Madame herself.

The modern-day Marquise de Sade and Beverly Charpentier—the woman who gave up her freedom to serve her—will talk with author and journalist Toni Bentley about their love, friendship, and rituals.

EROTIC LITERATURE: ADAPTATION AND TRANSLATION IN EUROPE AND ASIA
29 June 2015 - 30 June 2015
CRASSH, Alison Richard Building, 7 West Road, CB3 9DT - SG1&2


Conveners
Johannes D. Kaminski (Department of German)
Rudolph Ng (Faculty of History)

Summary
This conference will address the semantic demarcations of erotic literature. Transgressive by nature, no genre of literature is more defined by the social and aesthetic conventions that it playfully disregards or unwillingly reproduces.



fi : af • french institute alliance française
The Art of Sex & Seduction
Obsessions & Fantasies:
From The Marquis de Sade To Fifty Shades of Grey

Wednesday, October 22, 2014 • 7pm
With Toni Bentley, Daniel Bergner and Caroline Weber

At what point does a taste for the erotic go from acceptable to perverse? Learn about the impact of the notorious Marquis de Sade on contemporary culture and literature, as well as the current fascination with erotica and kinky sex.

With Toni Bentley, author of The Surrender: An Erotic Memoir;
Daniel Bergner, author of What Do Women Want?;
and Caroline Weber, writer and professor at Barnard College.
Talk will be followed by a book signing.


THiNK 2013 CONFERENCE, GOA

Toni Bentley will be a featured speaker at the THiNK 2013 conference in Goa, India that takes place November 8-10, 2013. THiNK, like TED conferences, brings together thinkers, writers, artists, entrepreneurs, musicians, scientists, for three days each year in Goa, a beautiful beachside city in West India. Other speakers this year include Garry Kasparov, Robert De Niro, Tina Brown, David Barash, Louise Leakey, and Bianca Jagger.
WATCH NOW