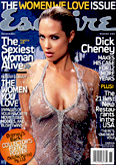 SEX ED
By Doug Cantor
Nov 01 '04
With the FCC cracking down on racy language and several states banning the sale of sex toys, it seems no breast or dildo will ever be safe again. So before team Ashcroft takes away our dirty books, we decided to sample a few new titles—for educational purposes, of course.

Tommyland, by Tommy Lee with Anthony Bozza (Atria Books, $26)
LESSON: When engaged in group sex, avoid prime numbers. "The thing to do is to have foursomes: three chicks and just you.... Everyone's happy, everyone's playing and everyone has something to do. Then you switch."
The Surrender: An Erotic Memoir, by Toni Bentley (ReganBooks, $25)
LESSON: At last, a solution to the Palestinian-Israeli conflict. "Anal sex is about cooperation. Cooperation in an endeavor of aristocratic politics, involving rigid hierarchies, feudal positions, and monarchist attitudes."
Mathematics and Sex, by Clio Cresswell (Allen & Unwin, $15)
LESSON: Have sex with at least a dozen people to optimize your chance of finding an ideal mate. "Sleep with 12 people. Then settle down with the next best that comes along.... This gives you over 75 percent chance of success, depending on your standards."
O: The Intimate History of the Orgasm, by Jonathan Margolis (Grove Press, $24)
LESSON: Golf is for losers. "To the middle-class Ancient Chinese male, the equivalent of playing nine consecutive eagles on the golf course was to attempt to have sex with nine women at the same time, making sure that all achieved orgasm."
How to Make Love Like a Porn Star: A Cautionary Tale, by Jenna Jameson with Neil Strauss (ReganBooks, $28)
LESSON: Wow! A sexual savant and a cuddler! "I woke up and discovered, to my horror, Tommy [Lee] curled around me. I hate cuddling. I lifted his arm off my side and quietly rolled off the bed."